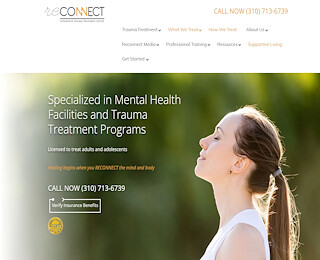 Healing from trauma can be difficult unless you seek professional help. Those who suffer from trauma may benefit from participating in treatment from outpatient mental health facilities. There are a variety of different types of treatments that may be used to help clients heal from trauma. Trauma may be caused by many different events. For example physical or emotional abuse can be traumatic. Being involved in a serious accident, natural disaster or combat could also cause trauma. Trauma is a different experience for everyone who experiences it and therefore everyone needs a specialized treatment program to facilitate healing.  
Trauma Therapy Treatments
There are a variety of therapy treatments that are available at outpatient mental health facilities. Some of the most successful therapies include EMDR, brainspotting, somatic therapy, art therapy, neurofeedback, EFT, mindfulness, yoga and movement or dance therapy.  In addition, a psychiatric evaluatuiion and medication management are provided along with weekly psychotherapy sessions.
A treatment program will be designed to include the types of therapies that are most likely to be successful for each specific client. Each particular treatment is part of an individual or group therapy program that is designed to assist in the resolution of painful traumas.
Outpatient Mental Health Facilities
Outpatient mental health facilities offer a selection of treatment options based on a client's needs. A day treatment program allows clients to receive a five hours of therapy, five days a week. The therapy includes a total of 22 hours of individual therapy and 3 hours of group therapy.
In addition to the day treatment program, clients may choose the intensive outpatient program. Participants may choose from one of two options. Option one includes 15 hours of therapy in three hour segments, five times a week. The therapy includes 13 hours of individual therapy and 2 hours of group therapy.
Option two provides three hours of therapy, three times per week for a total of 9 hours per week. It includes 8 hours of individual therapy and 1 hour of group therapy. Each program is customized to meet each client's requirements.
Therapy treatments are chosen individually for each patient so each treatment program may look different for everyone. The goal is to achieve a selection of therapies that will help you through the healing process and result in getting through the trauma in a productive manner.
Reconnect Integrative Trauma Treatment Center
At Reconnect Integrative Trauma Treatment Center our highly skilled staff members are here to help support you as you heal from trauma. We understand trauma therapy and will guide you through the process without judgment. Our treatment therapies have been chosen for their high rate of success with many of those who are healing from trauma.
Not every therapy treatment works well for every client. We work with our clients to evaluate their needs and choose the treatments that will be most likely to succeed. We offer a selection of outpatient and residential programs for those seeking healing from trauma. Contact us today to learn more about our trauma treatment programs.